Impact Coffee - Cold Brew Can
Most caffeinated drinks make you feel like 💩 -  switch to our delicious cold brew to get things done and feel great about it.
Details
Meet Impact Coffee. It's not just about more energy; it's about getting things done and making a real impact.

With a special blend that goes beyond regular coffee, we've added the magic of nootropics to help you stay sharp and focused.

Perfect for those who dream big and hustle hard.

Love it or get your money back, no questions asked - oh and keep the coffee too.
Key Ingredients
Ashwagandha: An age-old herb that keeps stress at bay and lifts your mood.

Ginkgo Biloba: Nature's brain booster, enhancing focus and memory.

Vitamin B12: The energy kicker, turning your food into pure drive.

Upgrade your coffee, make an impact.

Never experience an energy crash.

Never feel groggy & drained again.

Get in the zone and be productive.
No mood swings or feelings of anxiety.
How Does Impact Coffee Compare?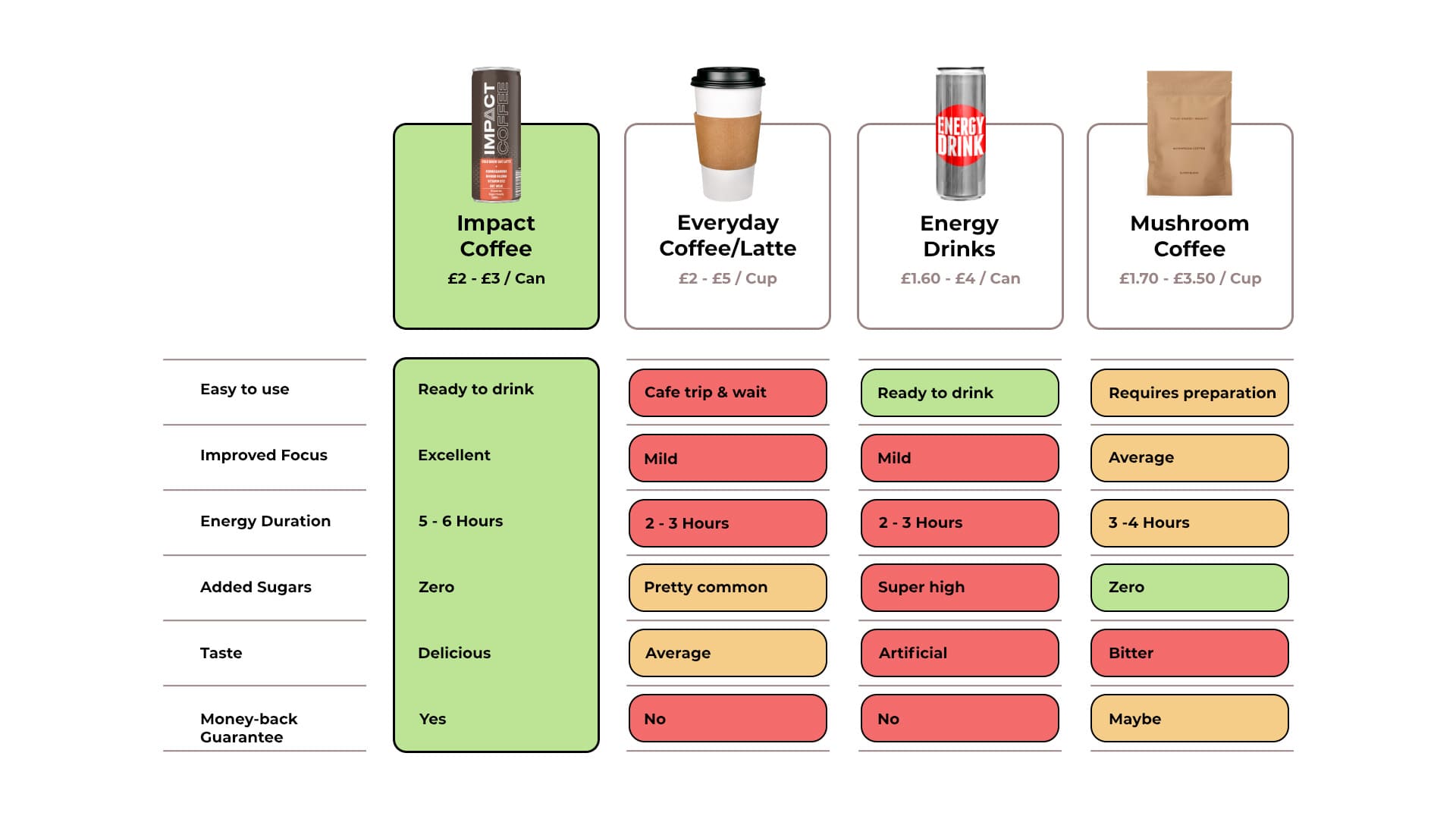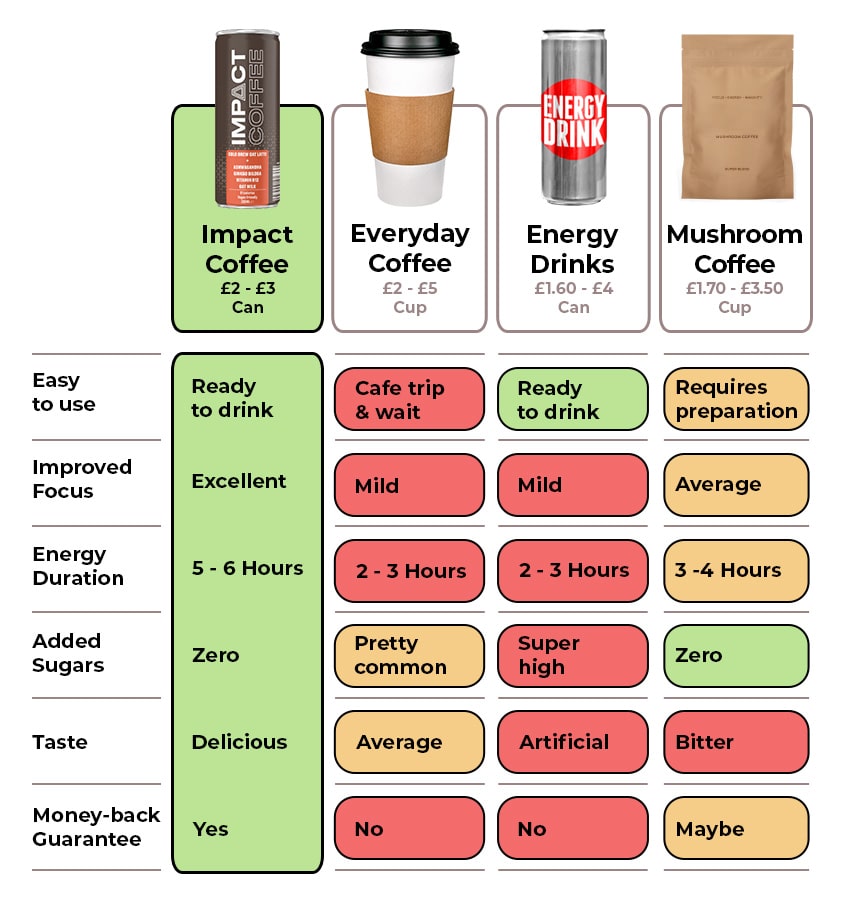 Ingredients Backed By Science

Ginkgo Biloba, Natural Brain Boost
Sharpens your focus and memory.

Ashwagandha, Ancient Stress Relief
Reduces stress and brings you calm.

Vitamin B12, Daily Energy Kick
Boosts energy and reduces fatigue.
What Do Our Customers Say?
Amazing alternative
Impact coffee has been a great alternative for me. Working in a busy kitchen for 10 years I developed and addiction to caffeine and have been prone to crashes. I've been having one impact coffee a day for a month now and feel much better. I will continue to use! It tastes great too
Excellent
I discovered this coffee in a store and started buying every can they had when they had it in. It really gives me that long-term, non-jittery coffee focus while still satisfying my craving for a good caffeine hit. Honestly I now have one or two every day while grinding away on my PhD at the office or library and it really adds both pleasure and focus to my day. I am also very satisfied with it being a healthy alternative to most other iced coffees out there.
Amazing
Great taste
Keeps me focused for hours on end
Overall great coffee
Definitely would recommend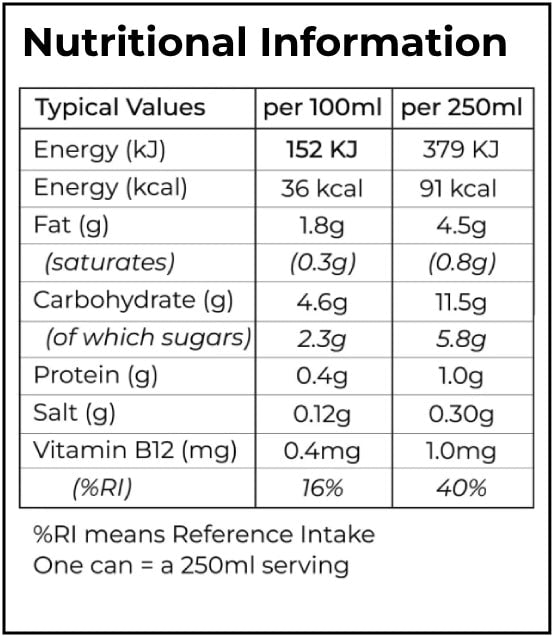 Other Ingredients: Oat Base Drink (65%) (Water, Oat Extract, Tapioca Starch, Salt), Arabica Coffee (33%), (Water, Coffee Extract), Vitamin B12, (Sunflower, Vitamin B12), Ashwagandha (Withania somnifera) Extract, Acidity Regulator: Potassium Carbonate, Ginkgo Biloba Extract, Sweetener: Stevia
Key Nutrition Facts
91 calories per can
Natural ingredients
No added sugars
Delicious oat milk
Infused with nootropics
Got Questions?
Here is what people usually ask
What does Impact Coffee taste like?
Impact Coffee tastes smooth and delicious, with rich Arabica beans perfectly balanced by creamy oat milk.
How does Impact Coffee improve focus and productivity?
Impact Coffee actively sharpens focus and productivity, blending caffeine with natural ingredients that clear brain fog and reduce stress.
How can I incorporate Impact Coffee into my daily routine?
Swap your usual coffee or energy drink with Impact Coffee for a delicious, energy-boosting beverage.
Will I crash or feel energy dips after drinking Impact Coffee?
No, Impact Coffee gives you steady energy without crashes or dips, unlike regular coffee.
Why is Impact coffee better than other coffees or energy drinks?
Impact Coffee blends premium cold brew, creamy oat milk, and potent nootropics for a drink that enhances focus, reduces stress, and tastes amazing.
How does the money back guarantee work?
If you are not satisfied with your first purchase, get your money back and keep your products.